Who invented the mute grab air?
Chris "Mute" Weddle did, that's right. This guy has been ripping shit up for years and the man is no joke. He traces his skateboarding beginnings to the 80's southern California skate days but he now lays it down in the St. Louis area. If you're in the midwest, be sure to check him out at the skateparks around town.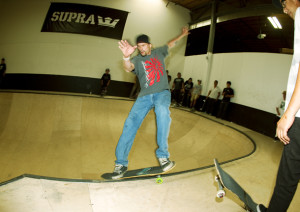 Deaf Monkey and Chris met under unusual circumstances on the BigTop Skatepark message board. The Monkey signed a comment as "Deaf Monkey" and Chris threatened to kick the Monk's ass for making fun of deaf people. Chris hadn't heard about Deaf Skateboards or that the Deaf Monkey really was a deaf skater. Everything worked out and the two can laugh about it now. Deaf Monkey caught up with this
cat recently for a few words about the old days. check it…
Where were you born?
CW} By Disneyland in California.
What's your birthdate? How old are you? How much do you weigh?
CW} 1965 day after christmas. 37. around 170.
How long have you been skateboarding?
CW} 26 years of skating on ditches, pools, vert ramps,miniramps,concrete and pipes.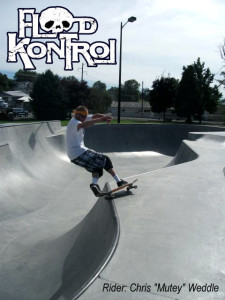 Who is your favorite Pro skater?
CW} You mean now? Noone really except Hosoi.
Who did you grew up with old pros?
CW} Alan Losi, Salba, Malba, Jeff Grosso, Chris Robison
(RIP), Lester Kasai, Omar Hassan, El Gato, Lance Mountain,
Ron Yerman and Tony Hawk.
What is your favorite tricks? Beside mute air?
CW} Losi grind, frontside rock, backside and frontside
sweeper, 50/50 fakie at 100 mph, and the frontside air.
Where are you at now?
CW} We live in St. Louis, Missouri.
Have you thought about going back CA?
CW} Oh yeah someday I will, I have to wait till my daughter
finishes school '07 and/or if things in CA get better.
Where is the last time you see the pro or hang out with
pros? What is the park called? What year?
CW} Last time I saw Losi, the Variflex team and friends
at Ranch skatepark in Colton, California in 81 because they
shut down my favorite park which I missed because of no
ride then suddenly all the parks shut down except Pipeline,
that was my first skate park in 77 then no skateparks then
I skated ditches, ramps and pools.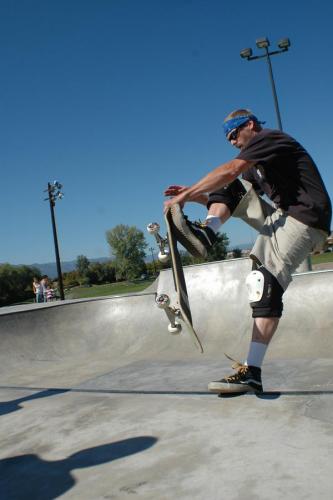 Who named you a mute? What year? Where? Why?
CW} I was told that Alan Losi's father Gil Losi named
my mute air trick that I pulled out at Pro/Am event at Ranch frontside
in 1981 because I am always quiet and talk funny which i
am hard of hearing.
Where is the best place you ever skated in your life?
CW} I would say Louisville, Ky and Fontana, Ca.
What is your favorite food?
CW} Mexican foods.
What is your set up? What size of board? Trucks? Wheels?
How many riser pads do you use it?
CW} 9 inch, square tail, 169mm Indy, 60 mm spitfire
and one riser pad.
Do you have family? Kids?
CW} Yeah, My loving wife Candy and daughter Elizabeth
who is 15.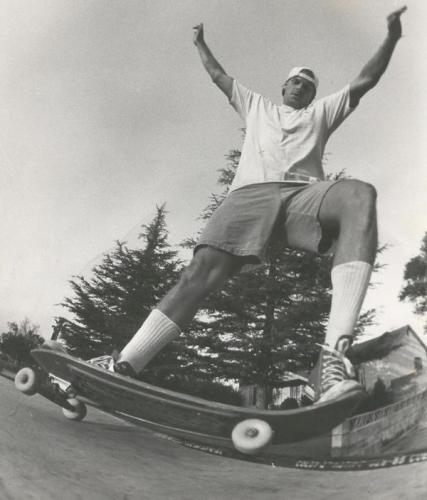 Do you want to thank anyone?
CW} Thanks Losi and friends.
Anything you really want to say or comment on?
CW} I really enjoyed skated with all you old pro skaters
who know me and I hope to someday session with all you guys!